#SIHH 2013 Live: Richard Mille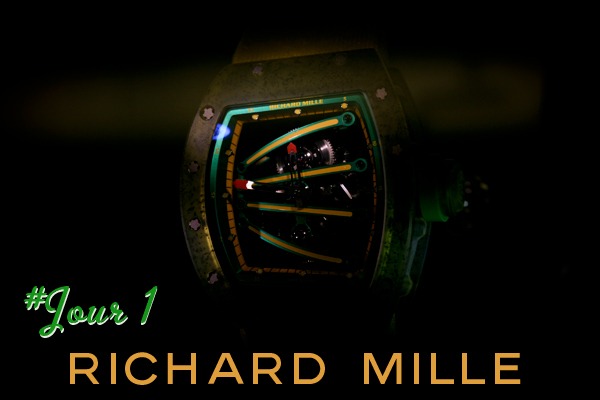 Let's go! SIHH 2013 news begin. It is after a busy day in the cozy atmosphere of the show that we present you the many discoveries we've made these past hours . You should be warned, this day is not placed under the sign of accessibility, far from it! We therefore begin with … – easy to guess (LOL) – Richard Mille watches.
For lack of time we deliver raw data here (yes we want you to be the first to be informed) knowing that, of course, we will have ample time to reconsider all these news these coming weeks.
Richard Mille – RM 11-01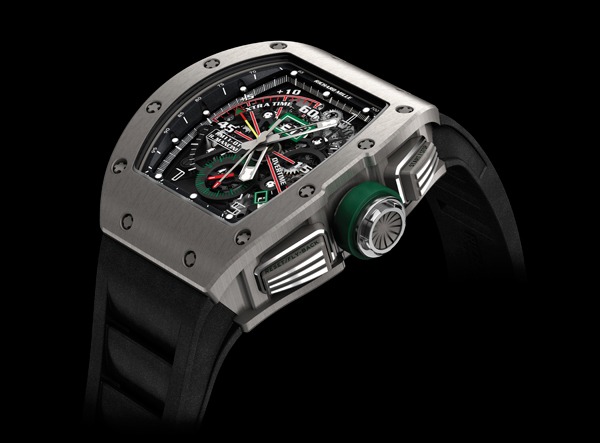 Richard Mille has chosen to create with Roberto Mancini this RM 11-01. Equipped with the caliber RMAC1, this piece offers an annual calendar and a flyback chronograph with central minutes counter and a dial divided into the different periods of play.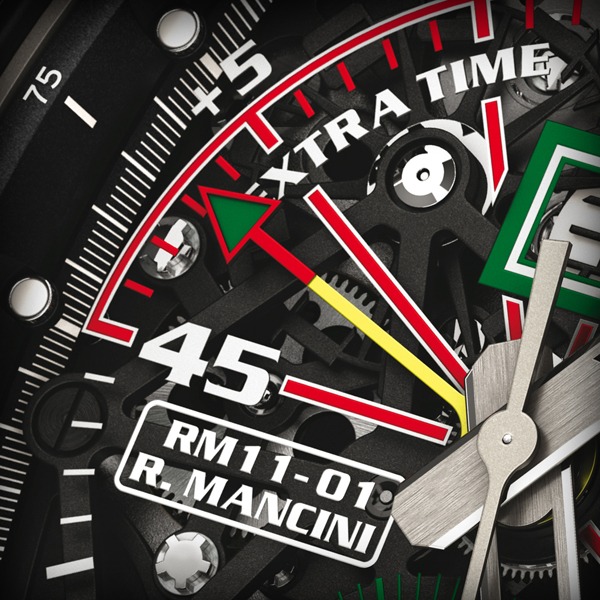 The dial displays match time on the basis of two 45-minute halves and up to 15 minutes of stoppage time. Pressing the pusher at 4 o'clock once actuates the flyback function and repositions the hand at 12 o'clock, ready to start the second half. If extra time is awarded, the flyback function can be reactuated so that the watch shows the 15 minutes of extra match time and up to 5 minutes of stoppage time.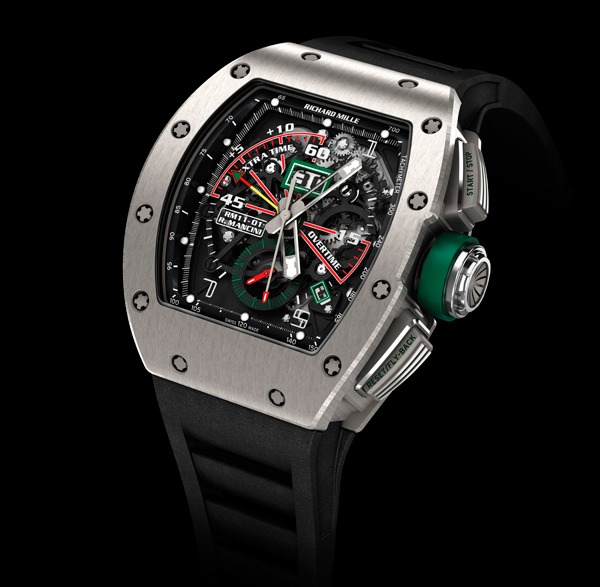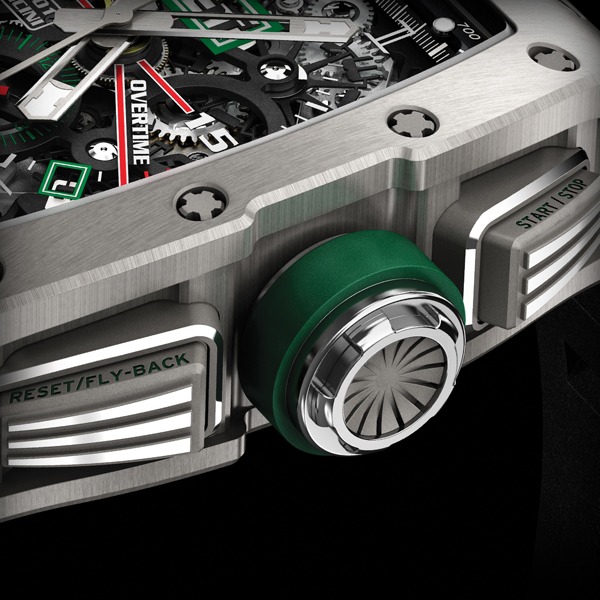 The case of the RM 11-01 reproduces the celebrated design of the RM 011. It is tonneau shaped and made in three parts from grade 5 titanium and has Nitril O-ring seals that make it water-resistant to 50 metres. It is assembled using 20 spline screws, also in grade 5 titanium, and with wear-resistant 316L steel washers. Completing this extremely ergonomic case required 420 hours of design work and over 200 machining operations.
Richard Mille – RM 27-01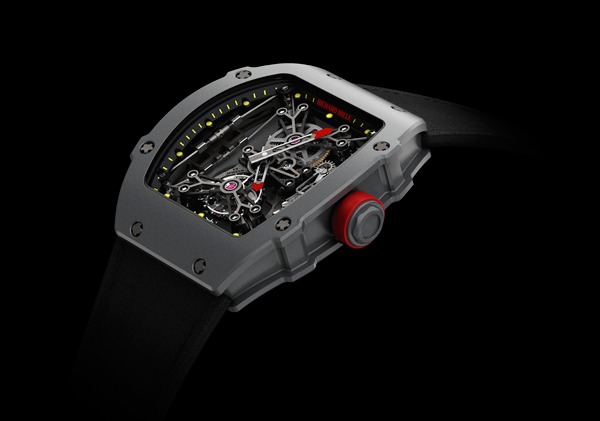 Once again this year, Richard Mille presents a watch designed in collaboration with Rafael Nadal:  the RM 27-01 tourbillon. The most beautiful and impressive novelties Richard Mille! A piece that pushes the concepts of lightness and strength at their peak.
Its complex and unique architecture comes from the will of Richard Mille to develop a movement entirely suspended in the heart of the case.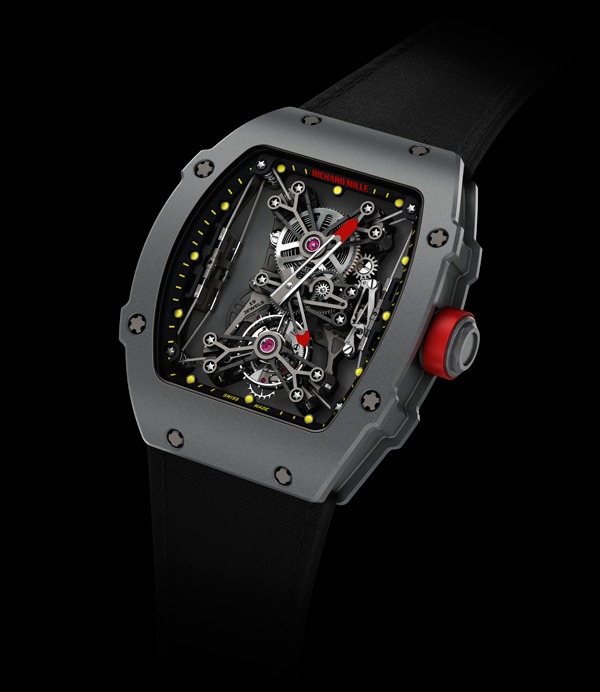 Inspired by the civil engineering suspended infrastructure, Richard Mille wanted to adapt these constructions into watchmaking, in a world of few tens of millimeters. RM 27-01 Rafael Nadal has a plate connected to the case by four steel cables braided to a thickness of only 0.35 mm in diameter.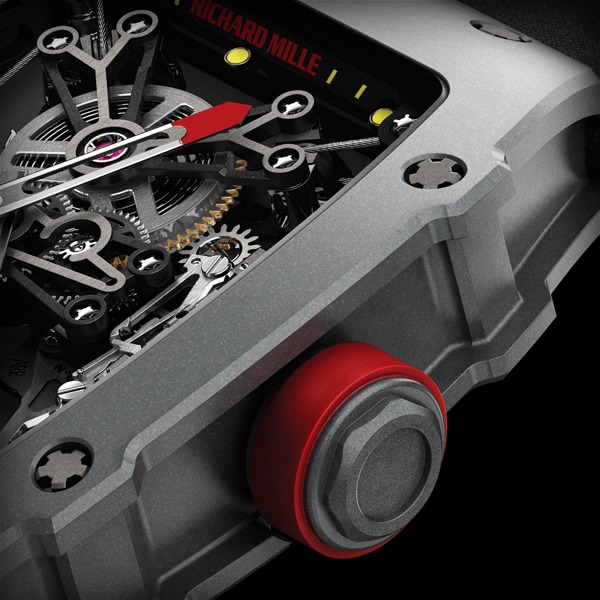 Combining flexibility and rigidity, the structure protects against shock the the movement of only 3.5 grams, weight obtained through the use of grade 5 titanium and platinum for the tourbillon and the aluminum-lithium for bridges and barrel cogs.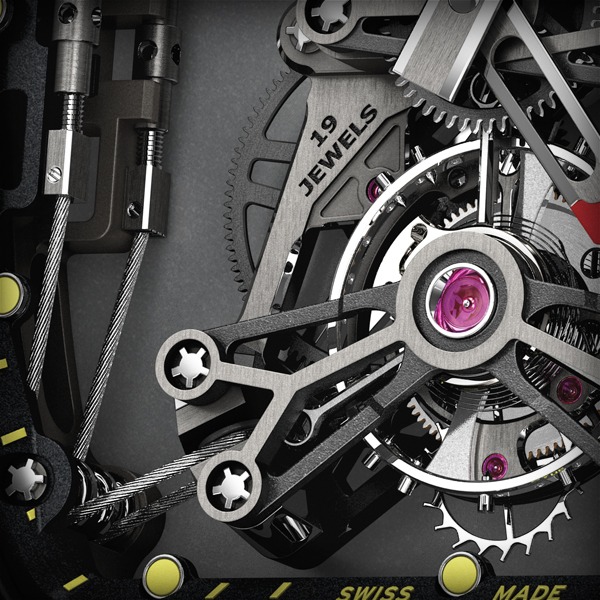 Tensioning of the cables is made possible thanks to an ingenious mechanism tensioners located at 3 and 9 o'clock and pulleys, acting as pylons placed at the 4 corners of the movement. Awesome!
RM 27-01 weighs only 19 grams, strap included Velcro ®. This piece will be available in limited edition of 50 pieces.
Richard Mille – Capteur de G Tourbillon RM 036 Jean Todt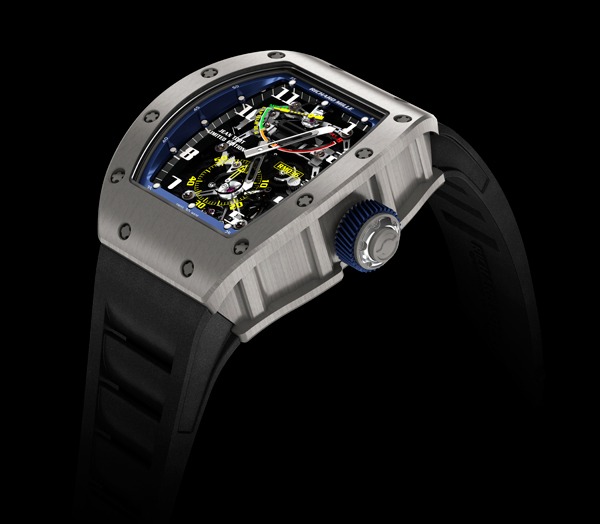 This year, Jean Todt and Richard Mille have joined forces to build not one but two special models. Here is the first one.
The RM 036 features a tonneau shape, a recurrent visual theme of the brand. The curved, ergonomic case specifically requested by Jean Todt for this exceptional timepiece houses the RM036 caliber, a tourbillon movement made entirely of grade-5 titanium and ARCAP, with a carbon-nanofiber baseplate.
This combination of materials provides the movement with optimal resistance and flatness, and draws a sublime contrast with the finishing, which include polishing, shot-blasting and satin-brushing. The manually wound mechanical caliber features hours, minutes and seconds combined with a brand-new complication: a mechanical G-sensor.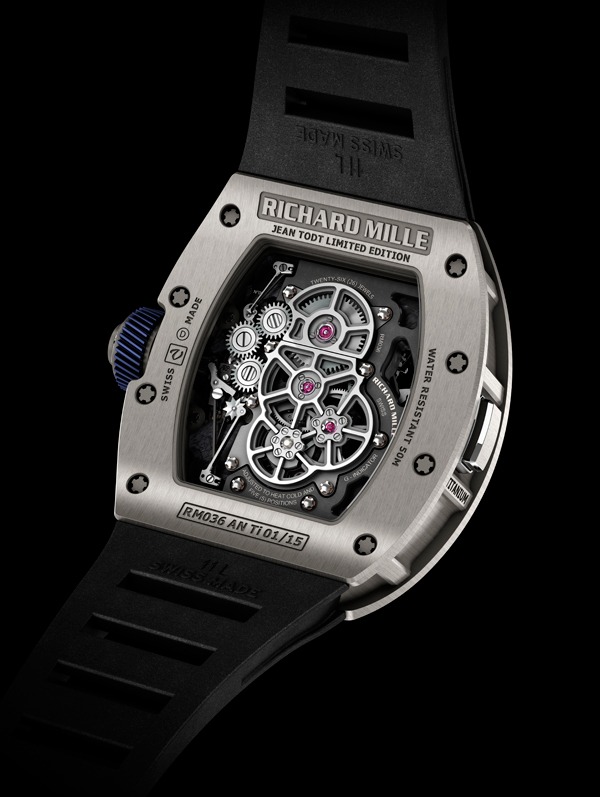 The G-sensor system was developed and patented by Renaud Papi exclusively for Richard Mille, and translates the movement of a small internal mechanism to an indicator, thereby enabling the wearer to visualise the forces.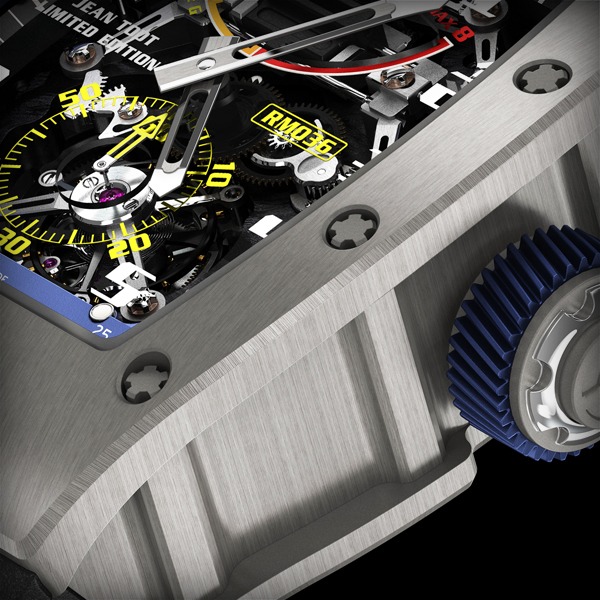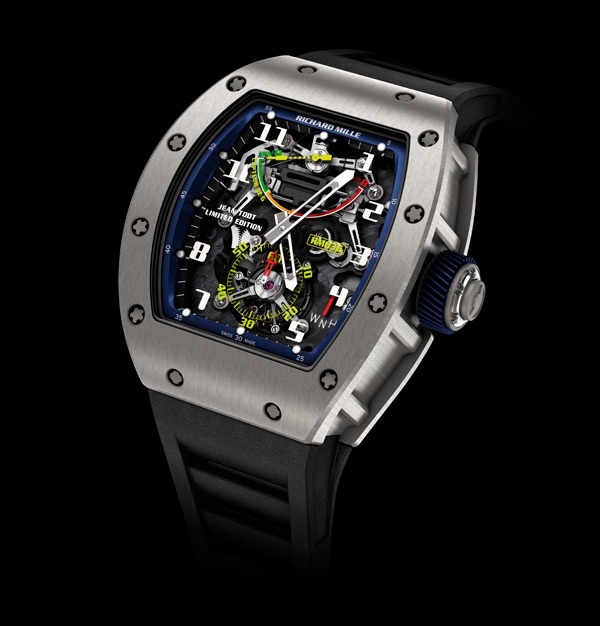 Fun feature, the scale placed at 12, which indicates through a hand if the deceleration is safe (green) or if it reaches a critical threshold for the driver (red zone). Its reset to 0 happens very easily thanks to the push button at 9am.
Richard Mille - RM 039 Aviation E6-B Chronographe Flyback
Attention! We reach here a level of complexity just … impressive!
When presented last year, this tourbillon RM 039 Aviation E6-B Chronographe Flyback watch has enthused all watchmaking professionals. Indeed, Richard Mille has realized this piece as a real navigation tool for experienced pilots, incorporating materials and visual codes of aviation.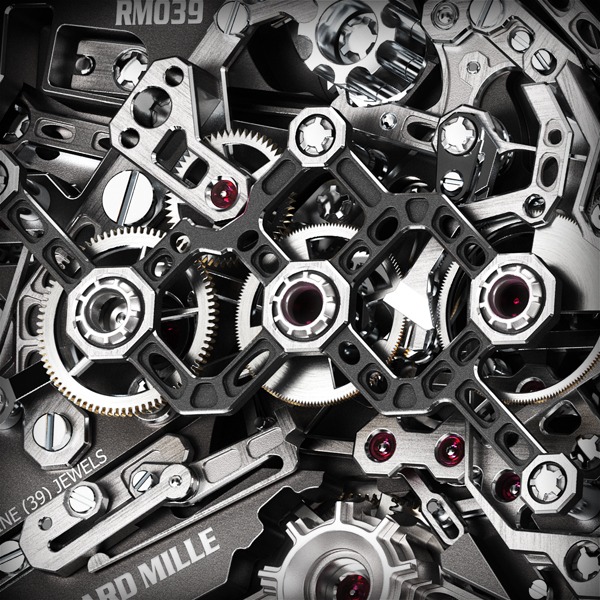 The caliber RM039 is a manual winding movement with hours, minutes and seconds at 6 o'clock, an oversized date display, a flyback chronograph with seconds counter, central minutes and hours at 9 o'clock, UTC and countdown modes, a function selector and a power-reserve display.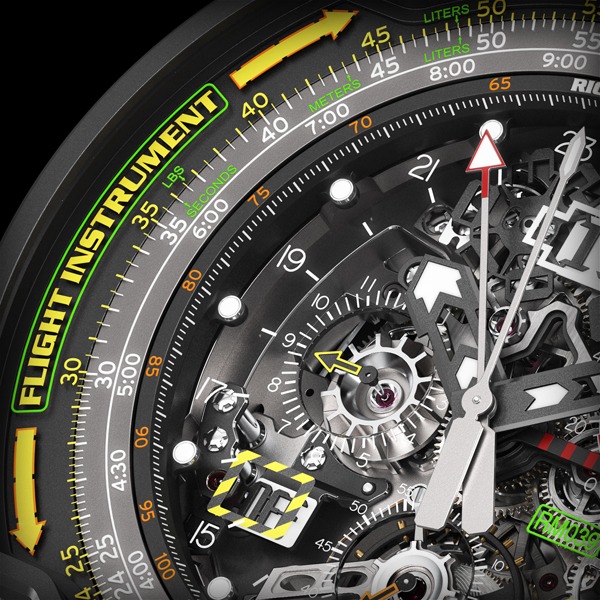 These functions involved the creation of 750 original components, assembled in a movement that contains 58 jewels, measures 38.95 mm in diameter and has a thickness of 7.95 mm. No less than 6 push-pieces are needed to make full use of all the functions available on this aviation watch!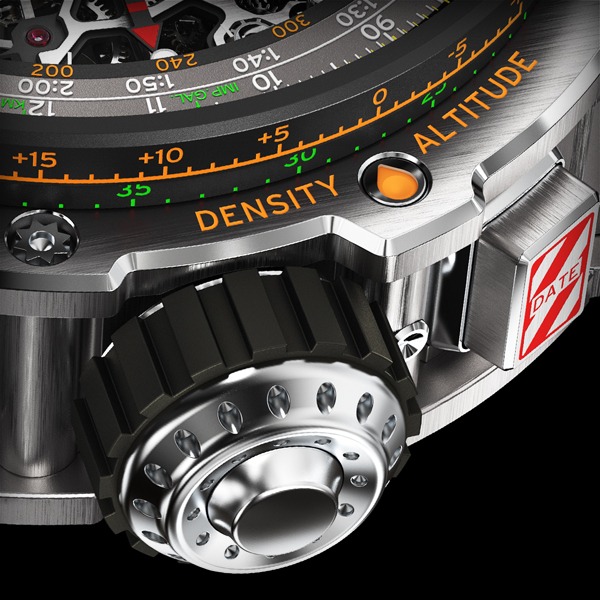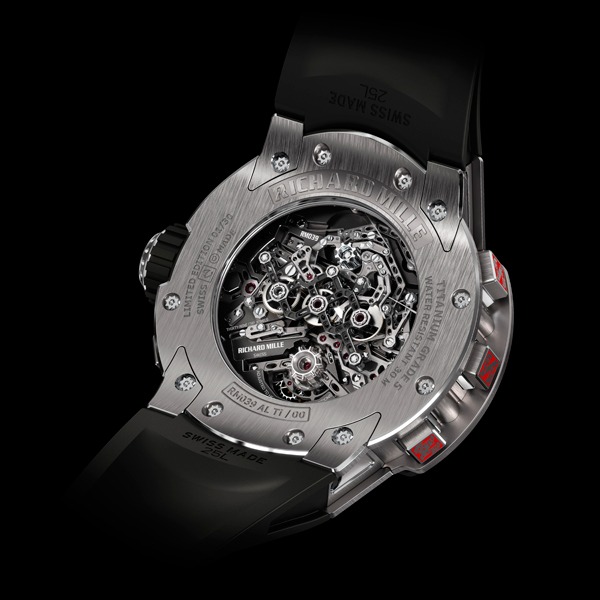 The Tourbillon RM 039 Aviation E6-B is an extremely complex and technical watch that embodies the synthesis between watchmaking and aeronautics.
Richard Mille – RM 58-01 Heure Universelle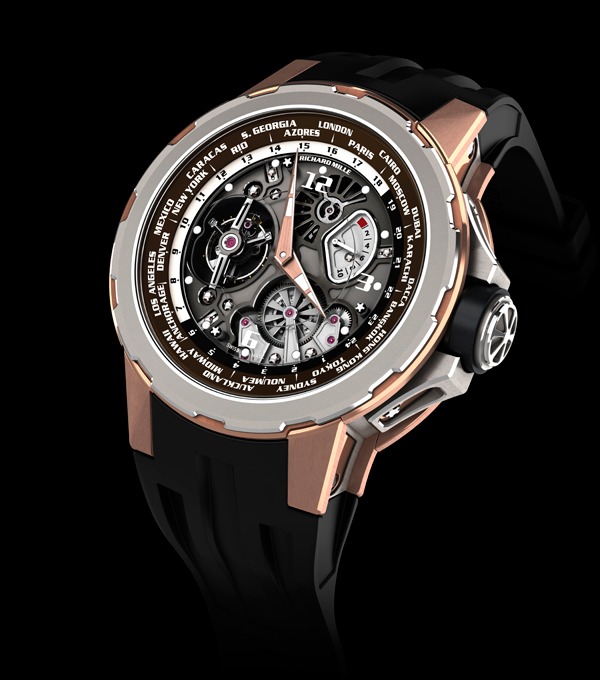 Second watch developped with Jean Todt, the RM 58-01 Heure Universelle is the result of Richard Mille's desire to offer extreme travellers like Jean Todt an easy and useful method for keeping track of travel through time zones with a special timepiece, the RM 58-01, which allows a traveller to deal with time zones with unique simplicity and ease.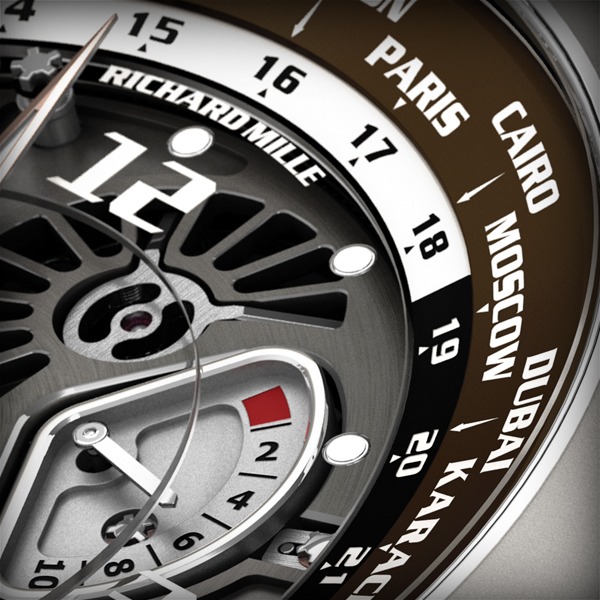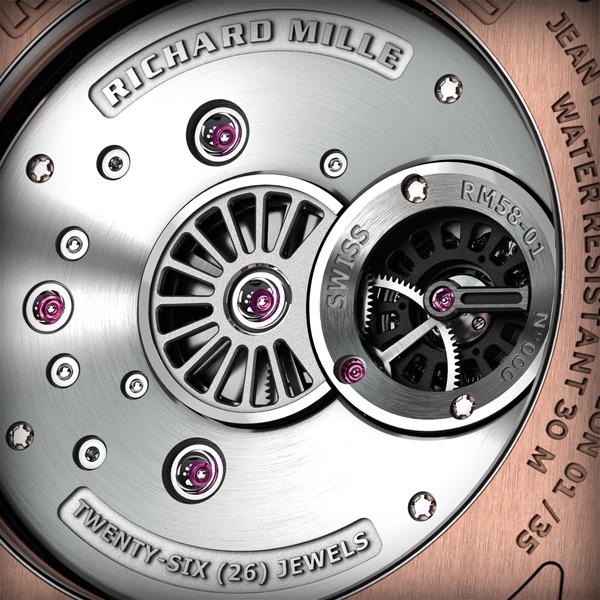 This manually winding movement has hours, minutes and a 10-day power reserve shown on an indicator at 2 o'clock. The caliber RM58-01, 34mm in diameter, is supported on a baseplate of grade 5 titanium, a material also utilized for the bridges. The tourbillon, positioned at 9 o'clock and oscillating at a frequency of 3Hz, is accommodated in a four-part case made from titanium and red gold.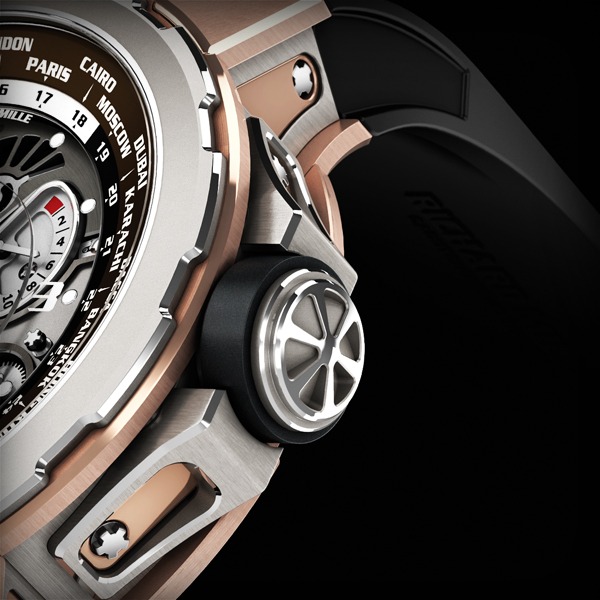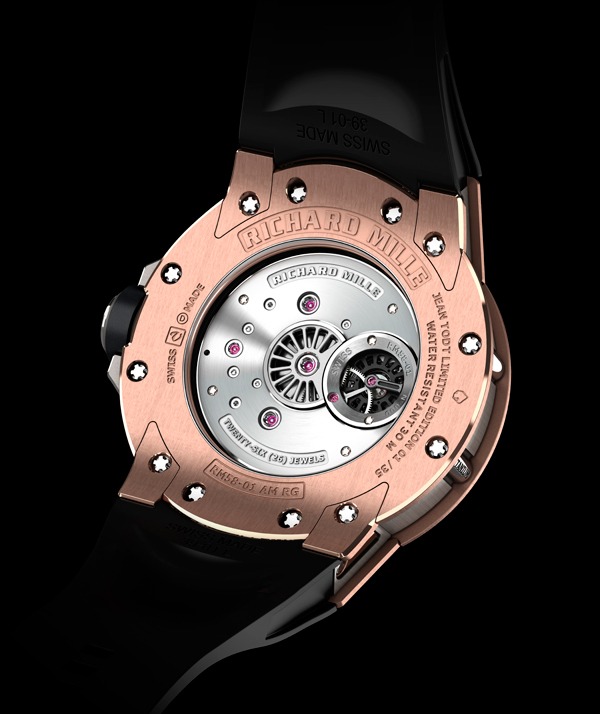 Behind this apparent simplicity hides a technical mechanism of immense complexity. In contrast to other time zone watches, the RM 58-01 does not need any adjusting push-piece to change from one time zone to another. The time is set by simply rotating the bezel anticlockwise, making adjustment a much quicker operation. All the traveller needs to do is position the name of the city where he or she has just landed at 12 o'clock, which automatically sets local time and the time in the other 23 world cities thanks to the 24-hour scale engraved on the flange. The black and white disc distinguishes day from night for the user automatically, so there is no possibility of confusion.
Richard Mille – RM 59-01 Yohan Blake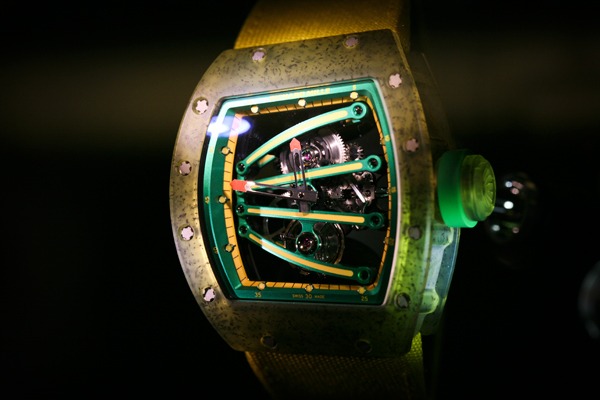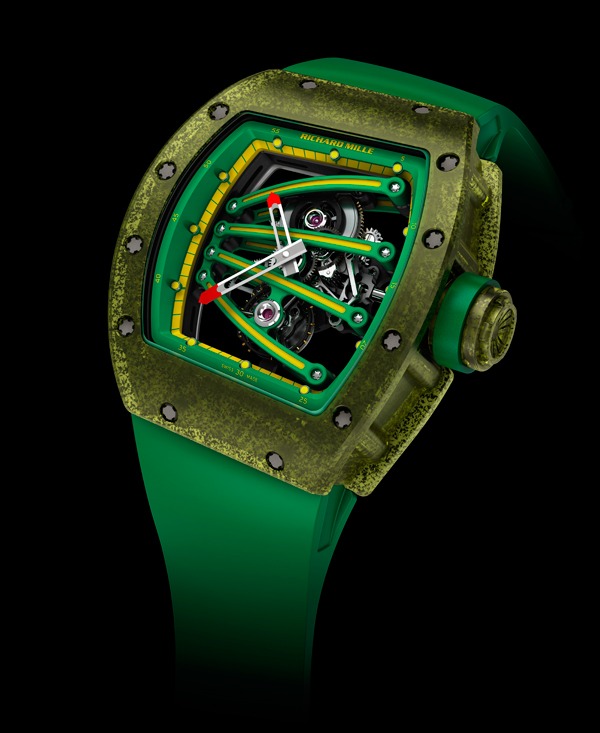 The last one and (not) the most beautiful one… oops!
La dernière et (pas) la plus belle… oups ! Result of a collaboration with Mr Yohan Blake. RM 59-01 Yohan Blake, an aerodynamics tourbillon watch, ergonomic, powerful with unique architectural structure, meeting all the requirements of the sprinter and Richard Mille.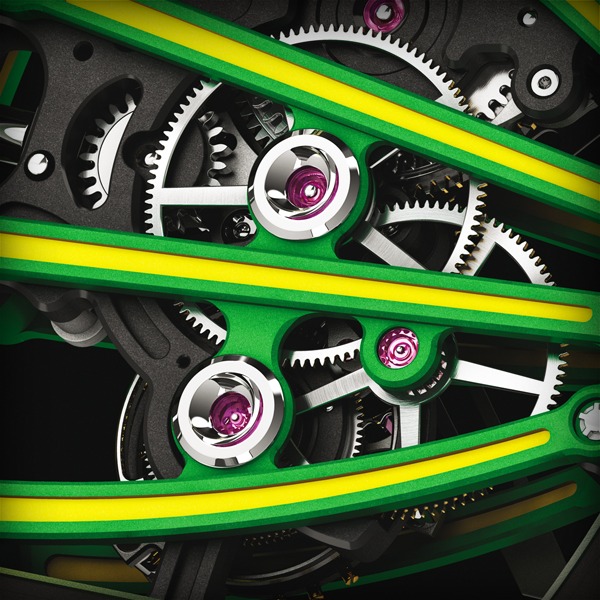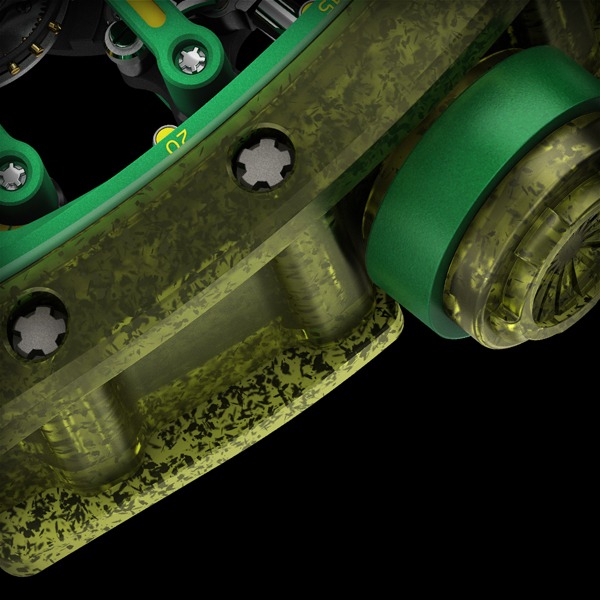 The RM 59-01 impresses at first sight thanks to its extremely dynamic bridges that span the movement and evoke the claws of the «The Beast», Yohan Blake's nickname. Machined from anticorodal aluminium Pb109, an alloy of aluminium, magnesium, silicon and lead, they support the tourbillon carriage and center-wheel pinion while consolidating the grade 5 titanium baseplate assembly with the case. They are also eloxed (through anodic oxidation) and hand-painted in green and yellow, two colours that also appear on the aluminium flange in tribute to the Jamaican flag.