MARCH LA.B & Fashion Toast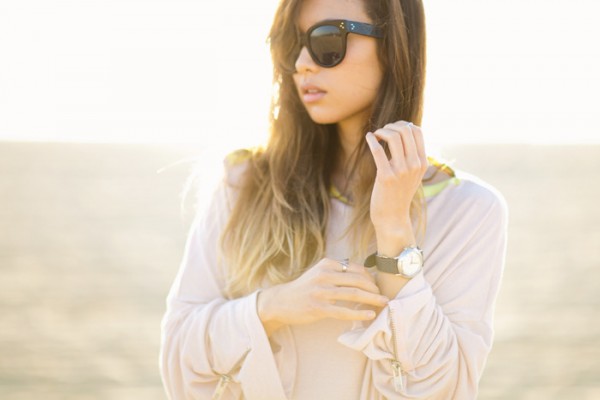 It seems that MARCH LA.B has managed to seduce Rumi Neely, creator of the popular American blog Fashion Toast. It is indeed in an article published on December 23 that the blogger was gracefully wearing a JC1 Shadowplay model on Los Angeles beaches.
Is watchmaking gently interfering into the world of fashion bloggers?

Photo credits: Fashion Toast
Watch history:
"The JC1 aesthetic is a modern rendition of the 'banker watch', which exudes an early 1960's, Madison Avenue sensibility. March LA.B's taste for details and sophistication lends the JC its Mad Men appeal, celebrating beautiful women, luxury and a crazy lifestyle.  The steel case silhouette is perfectly oval shaped, with the curve of the case back elegantly mirroring thecrystal dome.  The pusher, located at 2 o'clock, sets the analog alarm, responding to the needs of the world­wide traveler."
Technical Specifications:

Lizard skin hardbox with sliding tray covered in green velvet
Soft leather traveling wallet lined in green velvet with side watch compartment
Metal warranty card
Full instruction leaflet
1,090.00 €
For more information about this model click here.
You'll also like :